Indeed a poopy morning. My neighbor stepped in poop when she took her pups out and Bella was doing the bootscootin boogie on the carpet-no poop thank the Lawd. I woke up at one point horizontally on the bed. My body must have felt free to roam about without waking me, I wonder what else I did. I forgot to make my salad last night! I did throw some lettuce in a container topped with chicken and scream "FUCK IT that's my damn salad" . Oh and almost forgot to give Bella her antibiotics. Gerr is an essential part of my morning, even when I ask him thirty times to get up.
I am turning into a BOCCE MASTER! ok maybe an actual Bocce Player not master but let me practice more and I'll show you people! Really I had two really good games last night and was super proud of myself. I guess maybe I am made for this game. I'd like to give myself a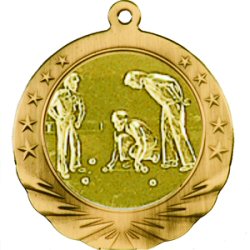 yes that is a medal. lol. it's a bocce medal and now i'm thinking i should get these for the team! lol.
Hey Californians! Ever have a question or some type of issue with the DMV and you get confused on the site because you can't find squat? Check out DMV-the unofficial DMV guide it's pretty damn cool and they take you step by step through different processes. Purdy awesome if you ask me. :)
So what the heck's going on in the Bay Area this weekend-
Treasure Island Flea Market-Saturday if you go to SF fun cheaps, you can get on the guestlist and not have to pay the $10 per person admission fee! I signed us up-just in case Gerr's up for going. They're having a Gnome hunt. BMX bike thing...etc...and it sounds like fun. Printed out my guestlist invite! yahoo.
Off The Grid-need I say more? I think i may order some pizza for my tired dude when he gets home. So i'm skippin that this weekend.
National Parks Week-If you weren't aware well now you are. Gain admission Free to any national park this week. Sunday being the last day...maybe it's time to go for a little walk through Muir Woods....hmmmmm?
Ideal on Ideeli-My pick today is the Festival style. There's actually some really cute hippy-esque pieces that weren't too bad. The prices are fair.
Hot on Hautelook-Maria Mare & Mustang, for my sandal friends-$15 bucks for sandals!!! and they're not bad looking!!!
I wish I could go home and lay around. that would be super nice.
I would like to add that I do love my dog, very very much. I am one of those responsible pet owners that will go broke, because I made the decision to take care of another life, be it canine, it's still a life. All I need are daily shots to NOT flip out when i look at my credit card balance. sigh. I pay off a thousand bucks, I add a thousand bucks. I know it will get paid off, but drat goshdiggity darn forkin A to mutherunkin heck. ONE DAY I WILL SEE A ZERO BALANCE!! dammit.
So what's for dinner tonight? hmmm, i was thinking a cheeseburger and fries and laying around in my jammies, but chances are I'll eat my leftover pasta stuff which is fine with me.
I have been eating salads for lunch for three days now, today will be day 4. I think I'll weigh myself next week and i'll let you know if i've lost any weight. I think i can take miss Bella on a walk today too, so that should make her happy.
That's all i got left in my brain for today, i'm afraid i'll deflate like a balloon and you'll find me this limp piece of rubber sitting on the floor. Have a great day!