And what a wonderful time we had. Made it very hard to leave, but I was pretty tired after walking every which way we wanted to go. We Californians have it easy, we drive everywhere! I had a wonderful time though. Spent time with my mother and my grandmother and I felt so at home, I actually didn't want to leave. Gerry and I spent a lot of time together on our own too and I felt pretty connected with him. We definitely needed a week to get away. Not only did i reconnect with myself through my family, but i also reconnected with my boyfriend and my family.
random fact-squirrels in New York aren't scared of humans. When we arrived this squirrel kept walking super close to me, I'm pretty sure he thought I wasn't from there..Maybe he considered me "fresh meat".
I realized that no matter how much pain I was in, I kept going. My back was all sorts of messed up. I blame fibro and excitement. Gerry called me a trooper. I realized, I'm not letting this crap interfere with my life.
random fact #2-SFO has refilling stations for your water bottles. As you probably know, you can't take open containers through security. SFO has refilling stations so you can empty them out on one side and then refill them on the other! JFK doesn't have this and they charge 3 bucks for water once you reach the other side.
Need to go to the bathroom in SOHO, NY? You could go to Starbucks and wait like 30 minutes for their one stall bathroom OR you can go to Old Navy...just a tip for my fellow travellers....
Check out the car that "walks on water" per thrillist.com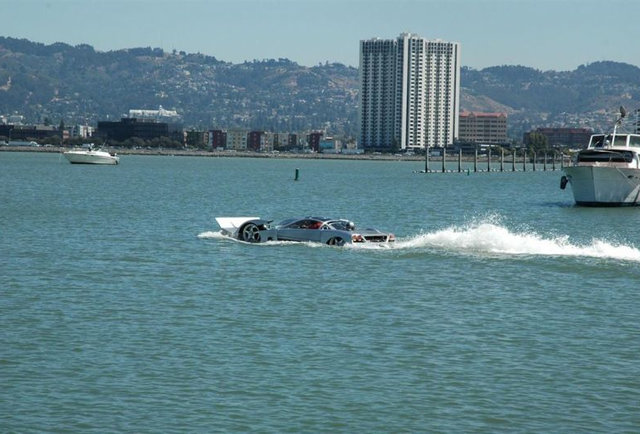 Some cool things happening in the Bay Area this weekend, I won't do what i usually do and tell you what's cool each day. I"m backed up over here with lots of crap so I'll just mention Bay to Breakers on Sunday. For more info on this and other events head on over to sf.funcheap.com
Hot on Hautelook-MIZ MOOZ cute cute cute shoes!!!
Ideal on Ideeli-summer trend round up sale! prettty stuffs!!
ok sorry to make it so short! have a wonderful day!!!